Need advice?
Do you need advice on choosing a psychologist, or are you just not sure if you are doing the right thing?
If you need help, for example in choosing a psychologist, or with choosing the length and method of consultation, write your query here and our team will contact you as soon as possible.
We also recommend viewing our product section located at the bottom of the webpage.

We are here for you.
Private psychological counselling team Mojra.info
---
At Mojra online counselling THE CLIENT PAYS FOR THE SERVICE.
Anyone can book an appointment with us without a doctor's referral required. Clients can rely on full confidentiality and can rest assured that using our services will not be recorded in medical records. One of the advantages of online consultations is the possibility of booking an appointment on short notice. Clients can pay for consultations online by card or via bank transfer to Mojra's bank account. Alternatively, mallpay service is available with the option of paying within 14 days.
Clients can choose the length of the consultation according to personal needs and the severity of the problem. The recommended length of the first consultation is 60 minutes
Important information
We would like to inform you that the session in our counseling center lasts 60 minutes not 50 minutes as in other counseling centers. You will get about 17% more time for free to solve your personal issues with a psychologist or therapist.

For example when ordering a package of 10 x 60 minutes of consultation "Long-term psychological care" this way you will gain an additional 100 minutes more time than in another counseling center and all at a discounted price.

Couple or family therapy is not charged at any higher rate and the price is the same as with a normal consultation.

After paying the price of the consultation the client no longer pays any additional fees. This means that the cost of the call is covered by our counseling center - the psychologist always calls the client.
Payment options
More information on each consultation can be found below
30 minute consultation with a psychologist
---
crisis intervention
problems requiring urgent help
short-term stressful situations
personal psychologist
wide range of experts
100% discretion and anonymity
consultation held via Skype, Whatsapp, Viber, telephone
order online 24/7
telephone support Mon-Sun 8am-7pm
Psychologist calls the client - the call is paid by Mojra.info
---
32.32 €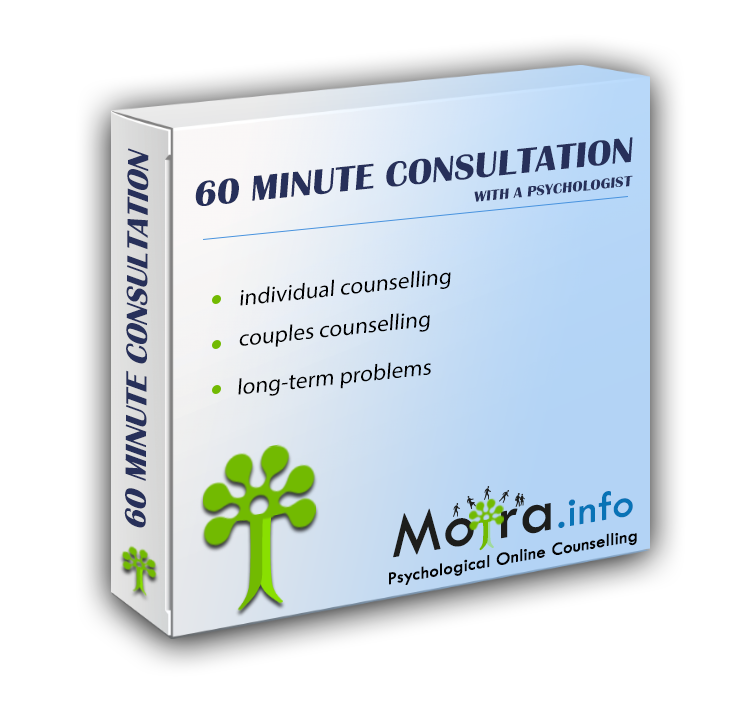 60 minute consultation with a psychologist
---
individual counselling
couples counselling
long-term problems
personal psychologist
wide range of experts
100% discretion and anonymity
consultation held via Skype, Whatsapp, Viber, telephone
order online 24/7
telephone support Mon-Sun 8am-7pm
Psychologist calls the client - the call is paid by Mojra.info
---
50.47 €
90 minute consultation with a psychologist
---
individual and couples counselling
family counselling
long-term problems
personal psychologist
wide range of experts
100% discretion and anonymity
consultation held via Skype, Whatsapp, Viber, telephone
order online 24/7
telephone support Mon-Sun 8am-7pm
Psychologist calls the client - the call is paid by Mojra.info
---
74.99 €
1x Email consultation with a psychologist

---
consultation held via email
response within 24 hours of payment
you will always receive a response from Monday to Friday 8am-4pm
personal psychologist
valid for 3 months
order online 24/7
telephone support Mon-Sun 8am-9pm
100% discretion and anonymity
price per one response
---
28.71 €
3x Email consultation with a psychologist

---
consultation held via email
response within 24 hours of payment
you will always receive a response from Monday to Friday 8am-4pm
personal psychologist
valid for 3 months
order online 24/7
telephone support Mon-Sun 8am-9pm
100% discretion and anonymity
package price
---
72.25 €
One-month Email consultation with a psychologist
---
consultation held via email
first response within 24 hours of payment
you will always receive a response from Monday to Friday 8am-4pm
maximum two emails per day
personal psychologist
order online 24/7
telephone support Mon-Sun 8am-9pm
100% discretion and anonymity
package price
---
461.01 €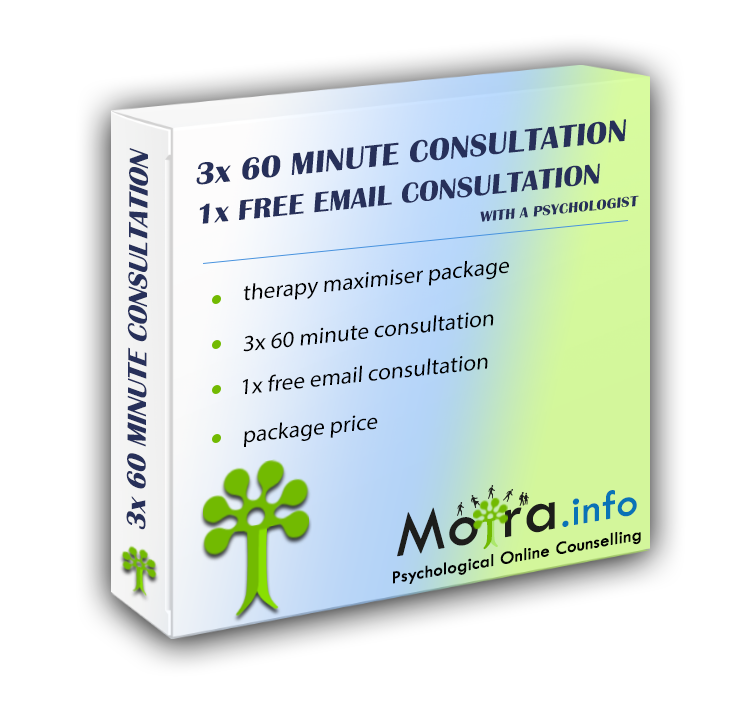 Therapy Maximiser Package

---
counselling
3x 60 minute consultation
1x free email consultation
100% discretion and anonymity
package price
personal psychologist
individual counselling
couples counselling
family counselling
short-term stressful situations
wide range of experts
100% discretion and anonymity
consultations held via Skype, Whatsapp, Viber, telephone
order online 24/7
Consultations available from Monday to Friday - morning, afternoon and evening
Short notice appointments available
No limit on number of clients attending consultations
online card payment, bank transfer or benefits
Consultations available in Czech, Slovak, English, German, Polish and Spanish
telephone support Mon-Sun 8am-7pm
Psychologist calls the client - the call is paid by Mojra.info
response to emails within 24 hours
response to emails always from Monday to Friday 8am - 4pm
---
144.87 €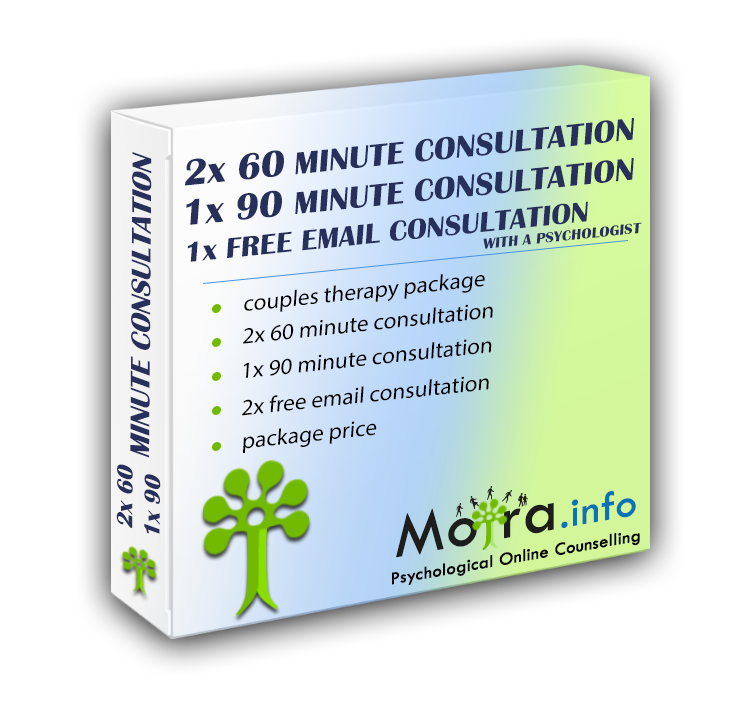 Couples Therapy Package

---
2x 60 minute consultation
1x 90 minute consultation
2x free email consultation
100% discretion and anonymity
package price
personal psychologist
individual counselling
couples counselling
family counselling
short-term stressful situations
wide range of experts
100% discretion and anonymity
consultations held via Skype, Whatsapp, Viber, telephone
order online 24/7
Consultations available from Monday to Friday - morning, afternoon and evening
Short notice appointments available
No limit on number of clients attending consultations
online card payment, bank transfer or benefits
Consultations available in Czech, Slovak, English, German, Polish and Spanish
telephone support Mon-Sun 8am-7pm
Psychologist calls the client - the call is paid by Mojra.info
response to emails within 24 hours
response to emails always from Monday to Friday 8am - 4pm
---
155.74 €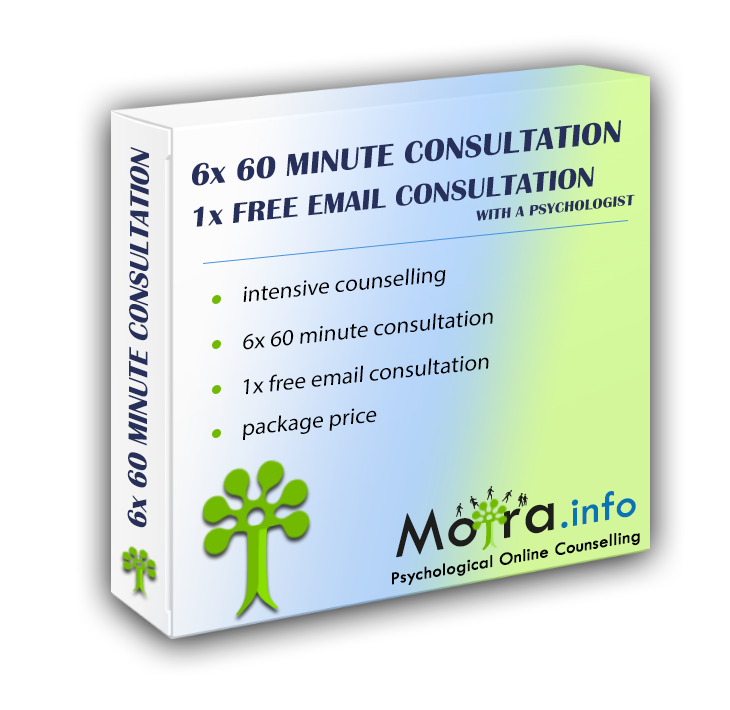 Intensive Counselling

---
intensive counselling
6x 60 minute consultation
1x free email consultation
100% discretion and anonymity
package price
personal psychologist
individual counselling
couples counselling
family counselling
short-term stressful situations
wide range of experts
100% discretion and anonymity
consultations held via Skype, Whatsapp, Viber, telephone
order online 24/7
Consultations available from Monday to Friday - morning, afternoon and evening
Short notice appointments available
No limit on number of clients attending consultations
online card payment, bank transfer or benefits
Consultations available in Czech, Slovak, English, German, Polish and Spanish
telephone support Mon-Sun 8am-7pm
Psychologist calls the client - the call is paid by Mojra.info
response to emails within 24 hours
response to emails always from Monday to Friday 8am - 4pm
---
290.06 €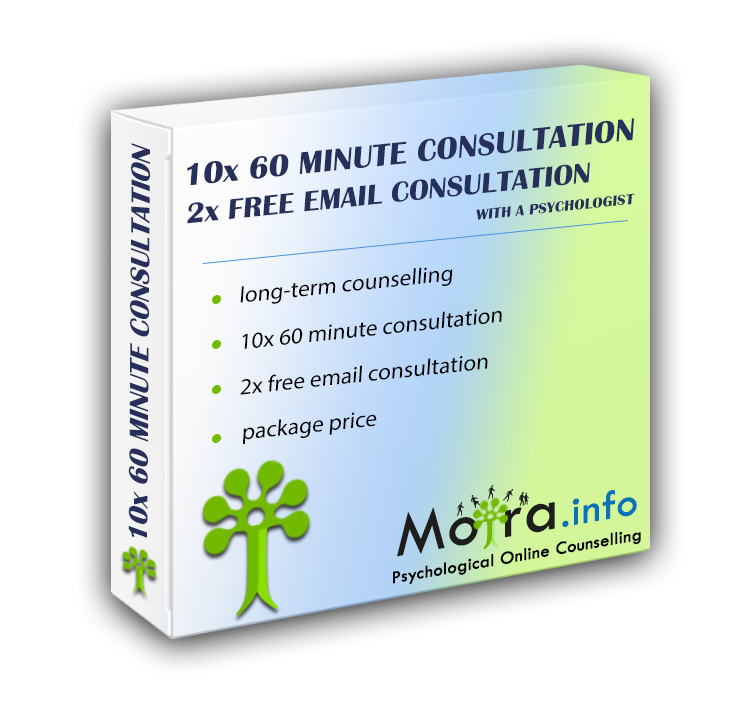 Long-term Counselling

---
long-term counselling
10x 60 minute consultation
2x free email consultation
100% discretion and anonymity
package price
personal psychologist
individual counselling
couples counselling
family counselling
short-term stressful situations
wide range of experts
100% discretion and anonymity
consultations held via Skype, Whatsapp, Viber, telephone
order online 24/7
Consultations available from Monday to Friday - morning, afternoon and evening
Short notice appointments available
No limit on number of clients attending consultations
online card payment, bank transfer or benefits
Consultations available in Czech, Slovak, English, German, Polish and Spanish
telephone support Mon-Sun 8am-7pm
Psychologist calls the client - the call is paid by Mojra.info
response to emails within 24 hours
response to emails always from Monday to Friday 8am - 4pm
---
495.42 €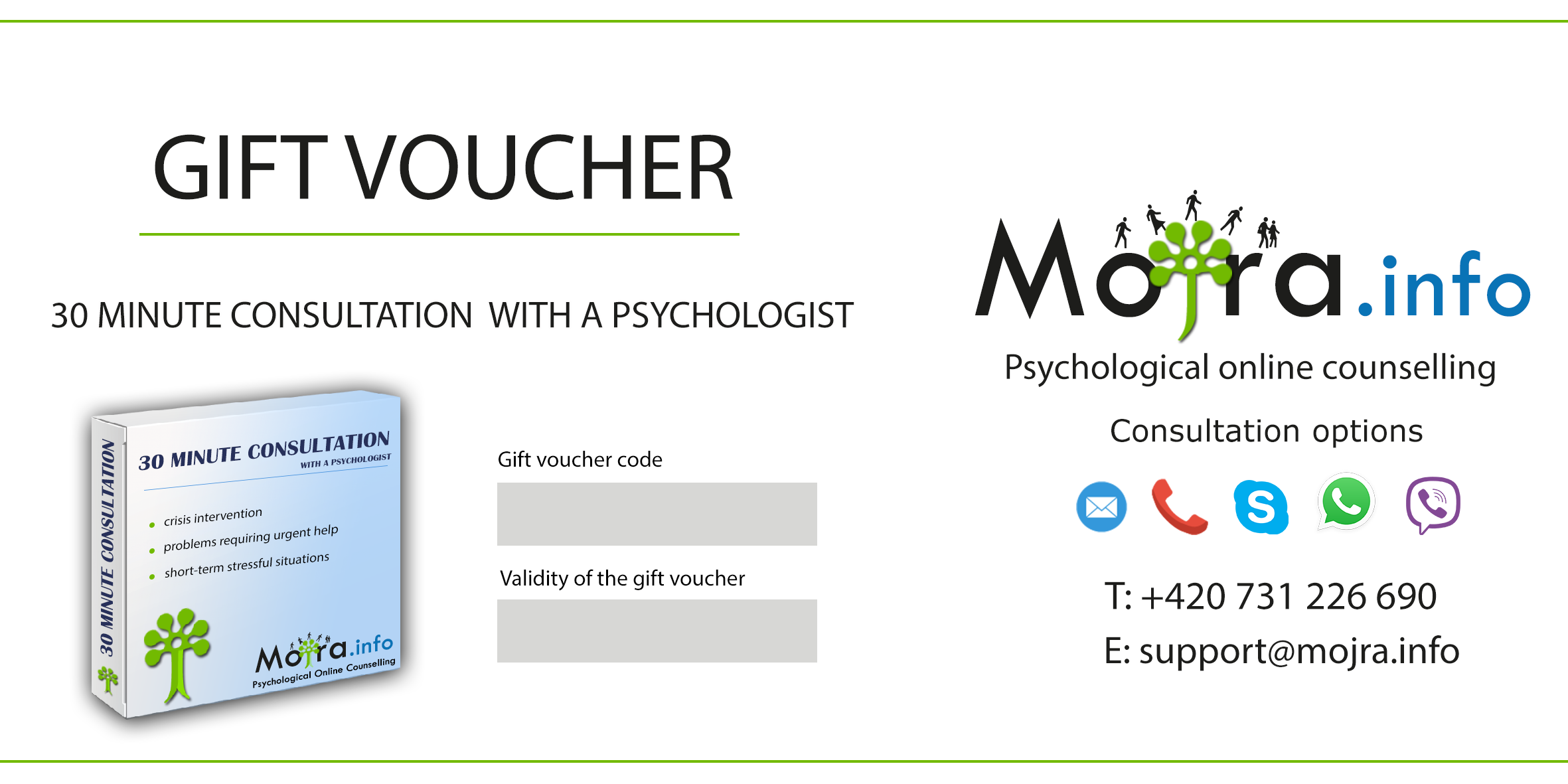 Gift Voucher: 30 minute consultation with a psychologist
---
gift voucher is transferable
gift voucher is valid for 4 months
save voucher in your user account
electronic graphic processing of voucher
send gift voucher by post and via email
printed voucher
order online 24/7
telephone support Mon-Sun 8am-7pm
Psychologist calls the client - the call is paid by Mojra.info
---
32.32 €
Gift Voucher: 60 minute consultation with a psychologist
---
gift voucher is transferable
gift voucher is valid for 4 months
save voucher in your user account
electronic graphic processing of voucher
send gift voucher by post and via email
printed voucher
order online 24/7
telephone support Mon-Sun 8am-7pm
Psychologist calls the client - the call is paid by Mojra.info
---
50.47 €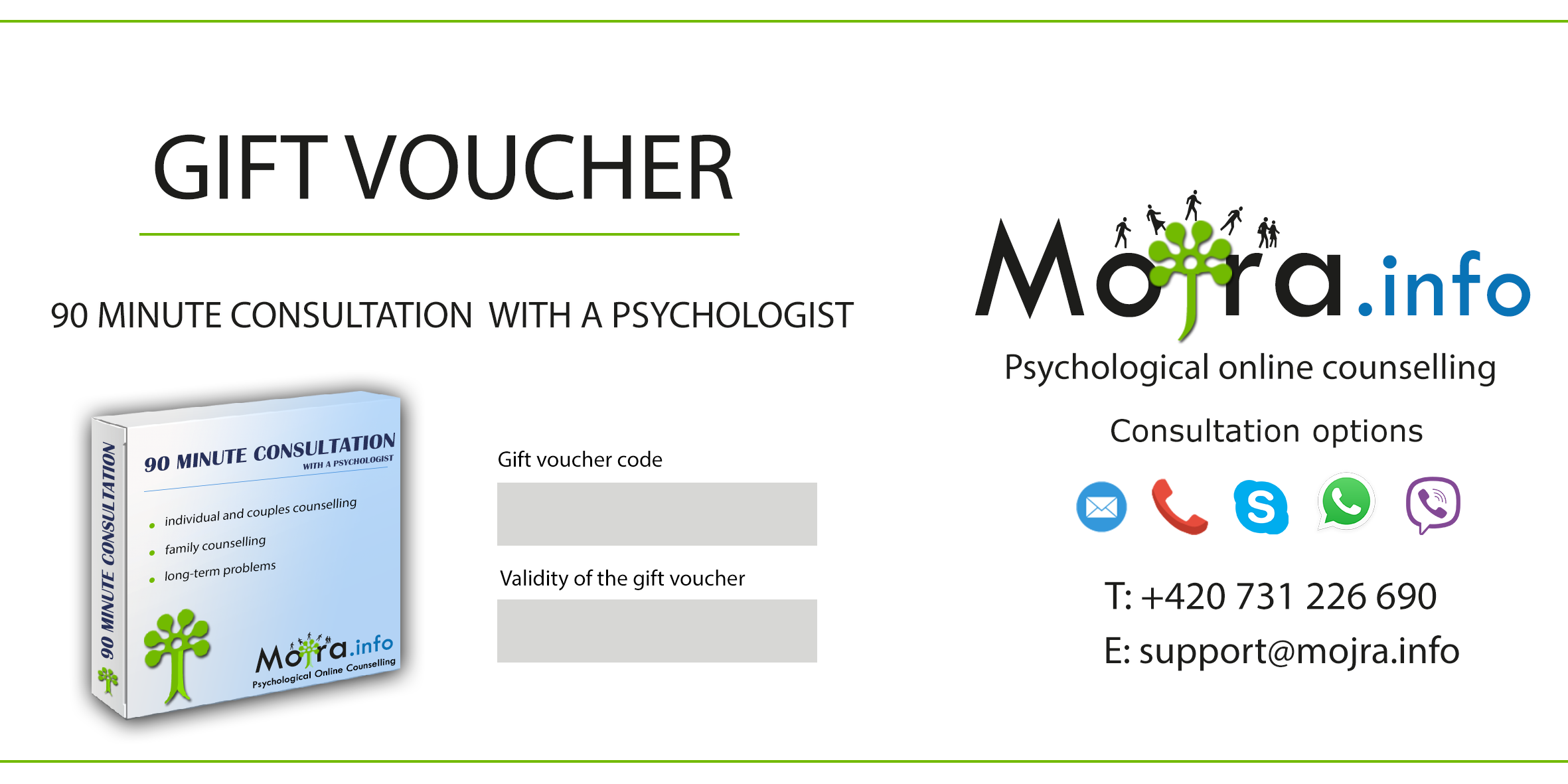 Gift Voucher: 90 minute consultation with a psychologist
---
gift voucher is transferable
gift voucher is valid for 4 months
save voucher in your user account
electronic graphic processing of voucher
send gift voucher by post and via email
printed voucher
order online 24/7
telephone support Mon-Sun 8am-7pm
Psychologist calls the client - the call is paid by Mojra.info
---
74.99 €
Gift Voucher: 1x Email consultation with a psychologist
---
gift voucher is transferable
gift voucher is valid for 4 months
save voucher in your user account
electronic graphic processing of voucher
send gift voucher by post and via email
printed voucher
order online 24/7
you will always receive a response from Monday to Friday 8am-4pm
telephone support Mon-Sun 8am-9pm
---
28.71 €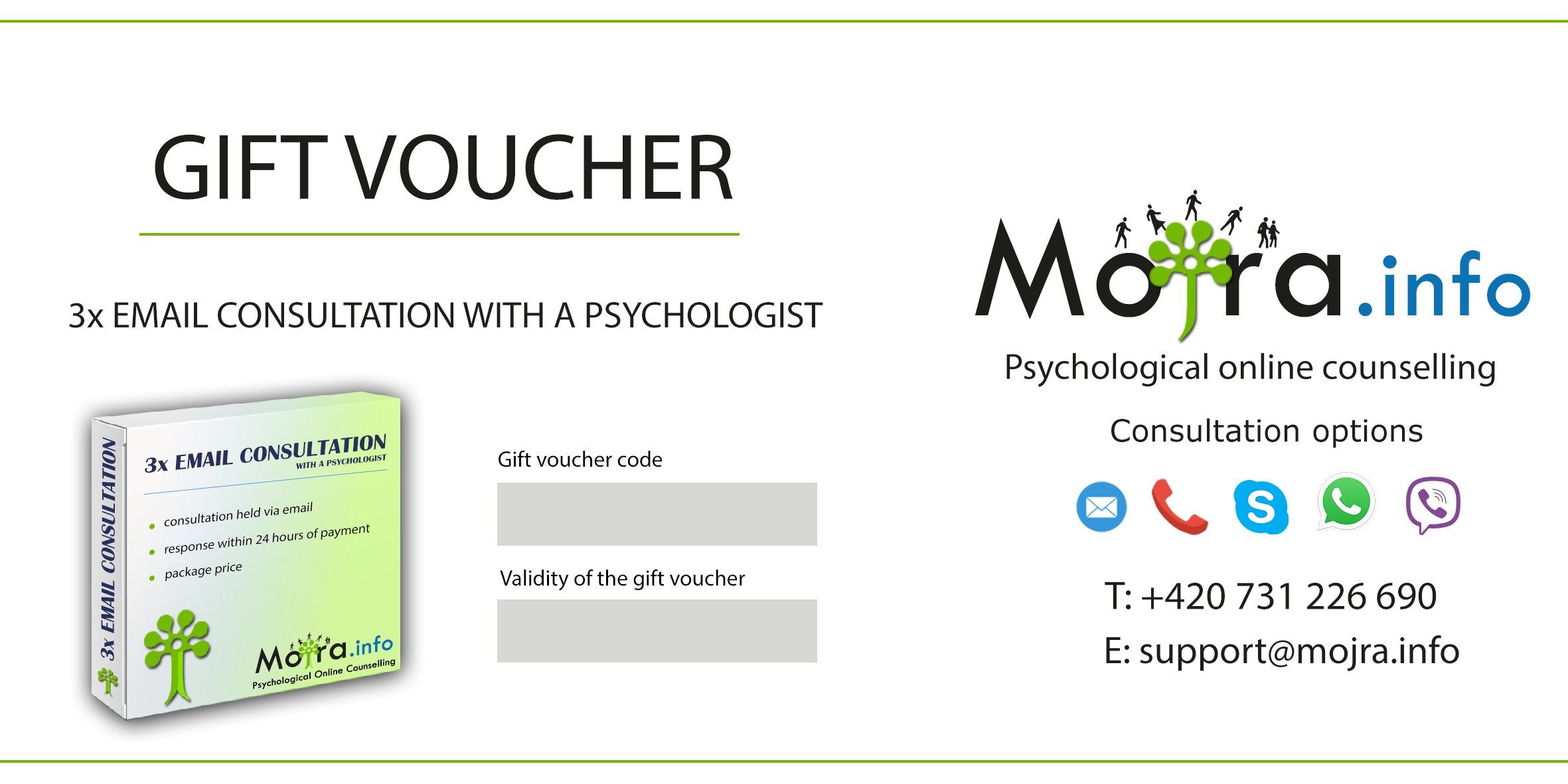 Gift Voucher: 3x Email consultation with a psychologist
---
gift voucher is transferable
gift voucher is valid for 4 months
save voucher in your user account
electronic graphic processing of voucher
send gift voucher by post and via email
printed voucher
order online 24/7
you will always receive a response from Monday to Friday 8am-4pm
telephone support Mon-Sun 8am-9pm
---
72.25 €
Gift Voucher: One-month email consultation with a psychologist
---
gift voucher is transferable
gift voucher is valid for 4 months
save voucher in your user account
electronic graphic processing of voucher
send gift voucher by post and via email
printed voucher
order online 24/7
you will always receive a response from Monday to Friday 8am-4pm
telephone support Mon-Sun 8am-9pm
---
461.01 €
Gift Voucher: Therapy Maximiser Package
---
gift voucher is transferable
gift voucher is valid for 4 months
save voucher in your user account
electronic graphic processing of voucher
send gift voucher by post and via email
printed voucher
order online 24/7
telephone support Mon-Sun 8am-7pm
Psychologist calls the client - the call is paid by Mojra.info
---
144.87 €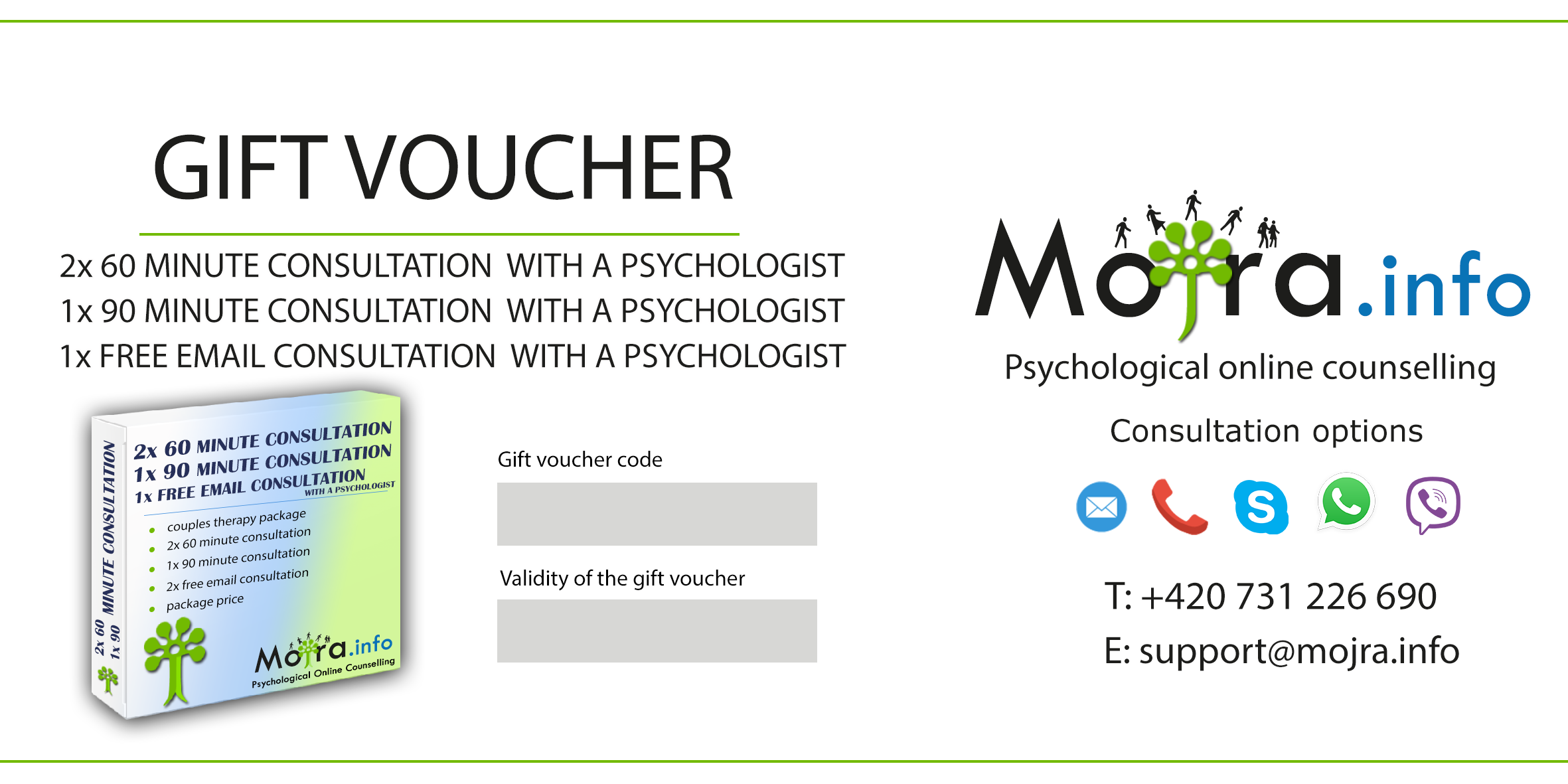 Gift Voucher: Couples Therapy Package
---
gift voucher is transferable
gift voucher is valid for 4 months
save voucher in your user account
electronic graphic processing of voucher
send gift voucher by post and via email
printed voucher
order online 24/7
telephone support Mon-Sun 8am-7pm
Psychologist calls the client - the call is paid by Mojra.info
---
155.74 €